So you're out and about and need to have a snack. You think well beef jerky will work, so you grab that bag of "John Lengths" beef jerky… drab, its chocked full of sugar and other, less than desirable ingredients. Why does beef jerky need corn starch and modified corn syrup? The anwser is simple, it doesn't. Our beef jerky tastes great, its sweet, savory and has a little heat on the back end. Bonus, you can adjust the flavors and make pounds of it for snacks. We make it a point to portion it out in individual bags. You'll understand why when you taste it. Seriously, its great jerky.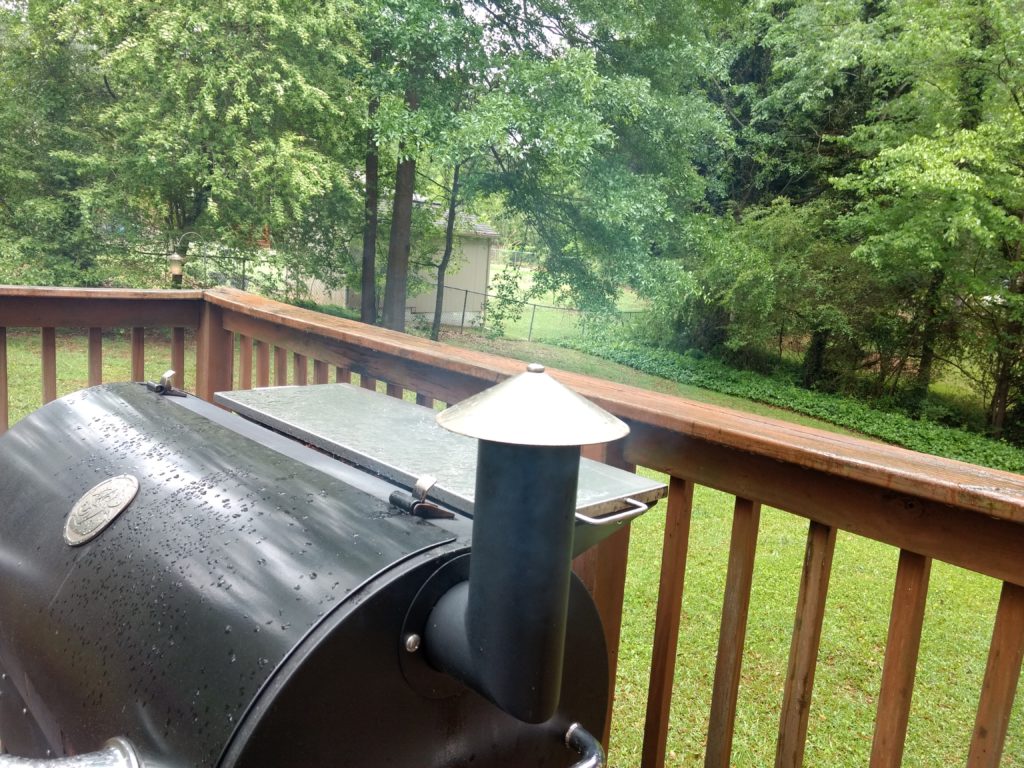 Sweet and hot beef jerky of course is the favorite jerky, because the old salt cured stuff isn't exciting enough for us. Now to get the best beef jerky you either need to get a dehydrator like this one. Or because we are KETO-Q, using your smoker Any smoker will do, but we are using our REC TEC Grills 680, its a jerky machine and we can get several pounds on it! We prefer the outdoor option, probably because we try to use the smokers and grills as often as we can for as many things as we can. I mean we are kinda known for that, being we are Keto-Q. But of course this works on the dehydrator too, you just won't have the smokey flavor. Now we just can't advocate using liquid smoke, but if you did we wouldn't tell on you. We are BBQ pitmasters, the smoker is the best choice for this, trust us. If you have a regular grill you can get this little smoking tube and get the smoke flavor that will make your jerky awesome!!!
Now for the meat choice, this works with any lean beef. We suggest using lean beef that doesnt have excess fat on the cuts, this is because the fat can spoil after a while. That is if it lasts that long at your house. We find that london broil or sirloin works well, but you can use chuck roasts, just be mindful of the fat content of it and the large fat grain in the center of the cut. We have done it with many cuts but london broil or the "Breakfast steaks" sold in most grocery stores are our favorite. Be sure the cuts are 1/4-1/8 inch or thinner, not shaved but a good thick jerky works well for this. Now its important to realize jerky can be tough, you could and we suggest pounding the cuts with a meat mallot or a better solution using a jaccard before marinating. Tender jerky is in the prep work.
Now this jerky as we mentioned has a sweetness and a little heat too, so as always if you like a little more heat a dash of cayenne pepper will take the jerky up a level on heat. But we find it to be pretty close to the store bought stuff with a bigfoot. Wink wink. If this is your first time jerky making, be patient and watch the cuts, at the low temps you must achieve its near imposible to mess it up, but over cooking it makes them more preserved, but lowers the enjoyment in flavors and textures. Smoke them at around 180-190 degrees in the pit, and after about 45 minutes start checking them. They are all different sizes so they will come off as they finish. You're looking for a plyable dark red to maroon color. Theres not much a thermometer probe will be good for, its just watching it and testing the first few pieces for doneness. The color will vary for the amount of smoke they receive.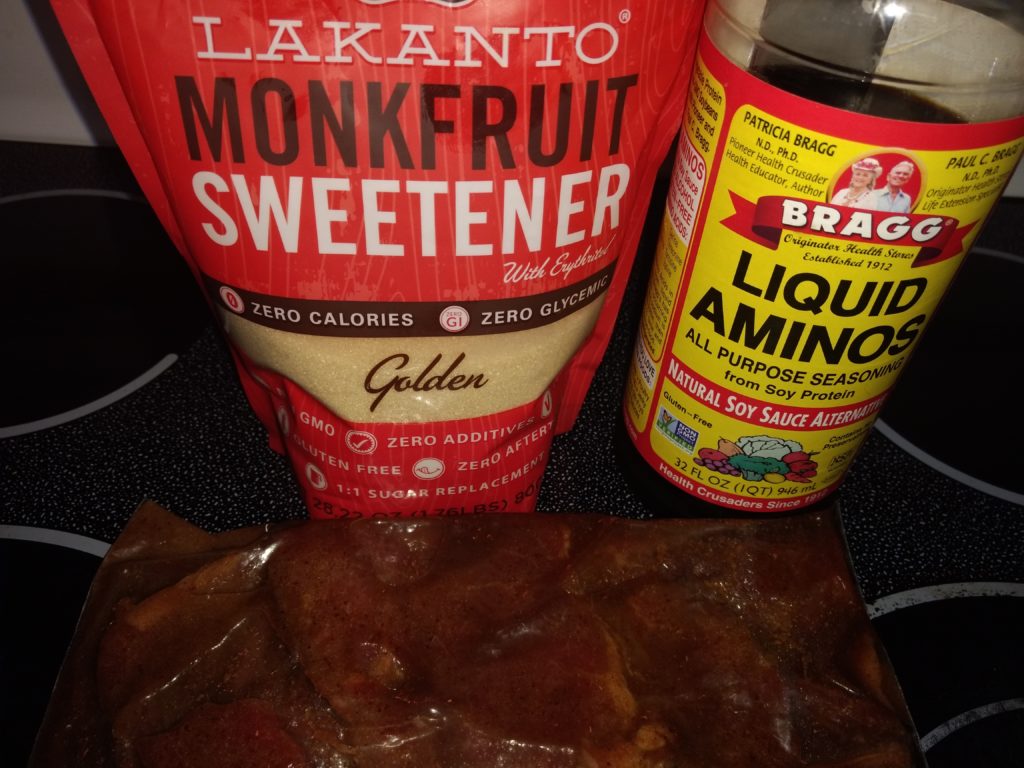 Recipe
1/4 cup Bragg's apple cider vinegar
1/4 cup Bragg's Coconut Aminos
1 Tbs Salt
1/4 cup Lime Juice
1 Tbs White Pepper
1/2 Tbs Paprika
1/2 Tbs Annatto powder
1 Tbs Onion Powder
1 Tbs Garlic Powder
3 Tbs Lakanta Monk Fruit Sweetener
2 Tbs Chili Powder
Prepped meat that has been tenderized goes into the pan or gallon bag with all ingredients and marinate for 12-48 hours. The longer they sit the more the vinegar will break down the meat. We like to do it around the 24 hour mark. The meat will be a dark color. You may lightly rinse and pat dry or go straight on the cooker, if unrinsed they do have more flavor, but the marinade can bake up on them leaving them having an odd coating, it doesn't affect flavor but they aren't as pretty. Again, this is an exercise in watching and knowing when to pull the pieces, test the first few tobe sure they are cooked/dried through. Allow them to cool and separate into snack portions. This marinade will do 5 lbs of jerky.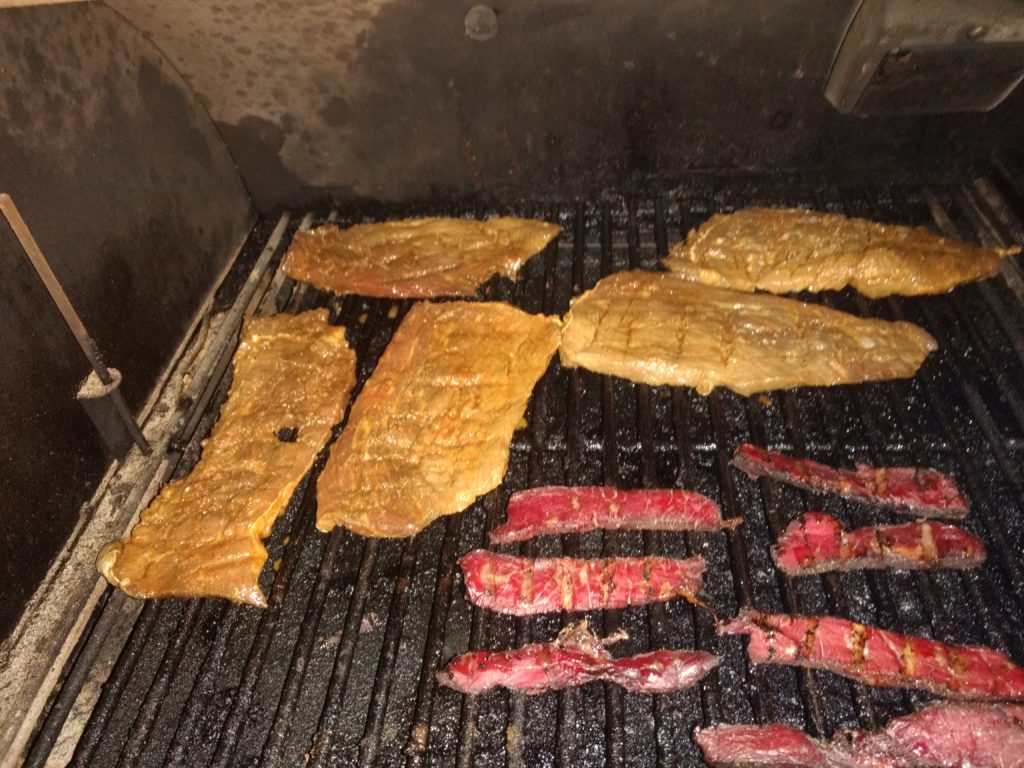 Try some of our other recipes, pin a few, share a few….
Crackers- Crunchy crackers!!
BBQ Pork, not just for ribs

We hope you enjoyed this recipe, give us some feedback, what do you want to see next? Comment below!!!