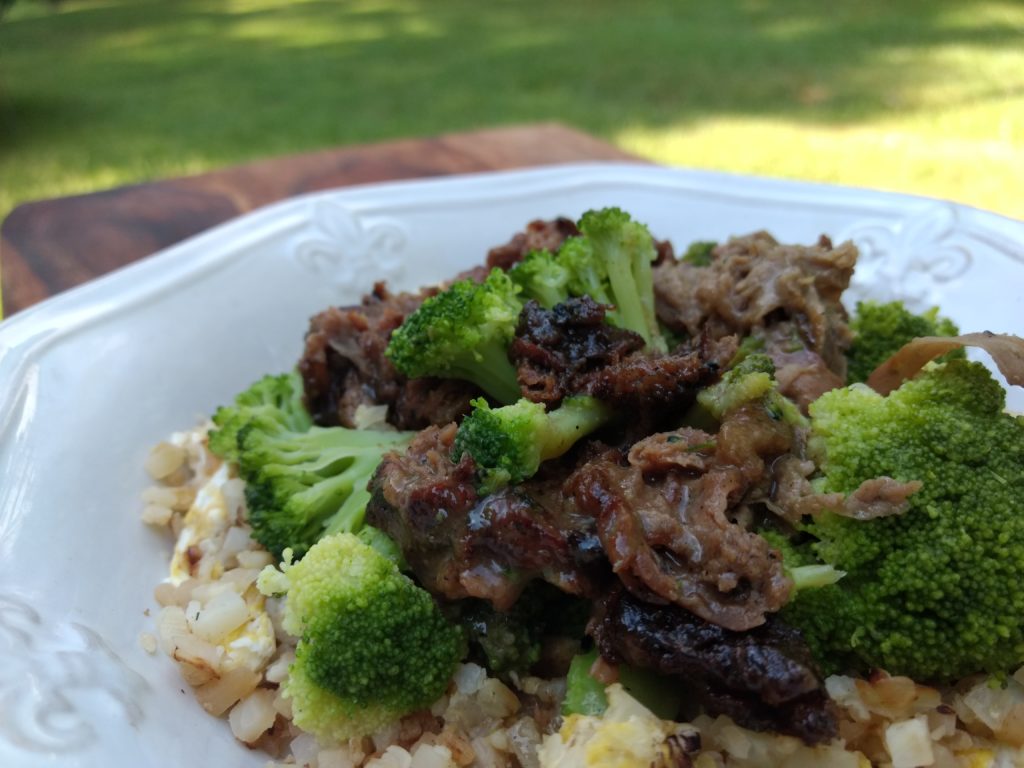 So in this way of eating, you cant just go down to the local chinese restaurant and grab some take out. This is the only draw back for us with chinese food, For this recipe, you just need a few minutes to get the marinade done and a couple minutes to cook it. We actually used our grill to cook this beef! Yes mongolian beef on the grill. I'll walk you through it, you can always do it inside if weather doesn't work or you just don't like cooking outdoors, but considering you're here with Keto-Q we figured you'll be donig out on the flat top, or grill.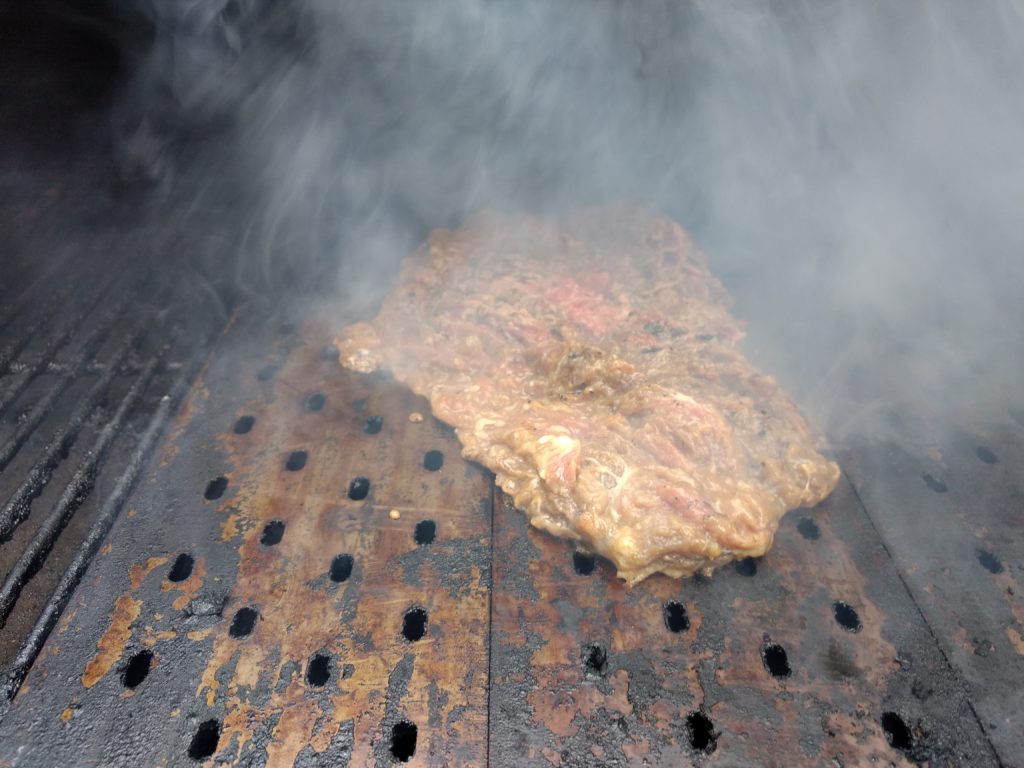 Mongolian Beef granted it says Mongolia right in the name its more of a Chinese-American dish adaptation of mongolian BBQ so it definitely fits our wheelhouse of BBQ. its simular to Szechuan beef, not as spicy crispy beef less garic and peppers hint hint of beef recipe coming. It'll be great, we're sure of it. It'll definitely be on the grill as well because this one did turn out so great.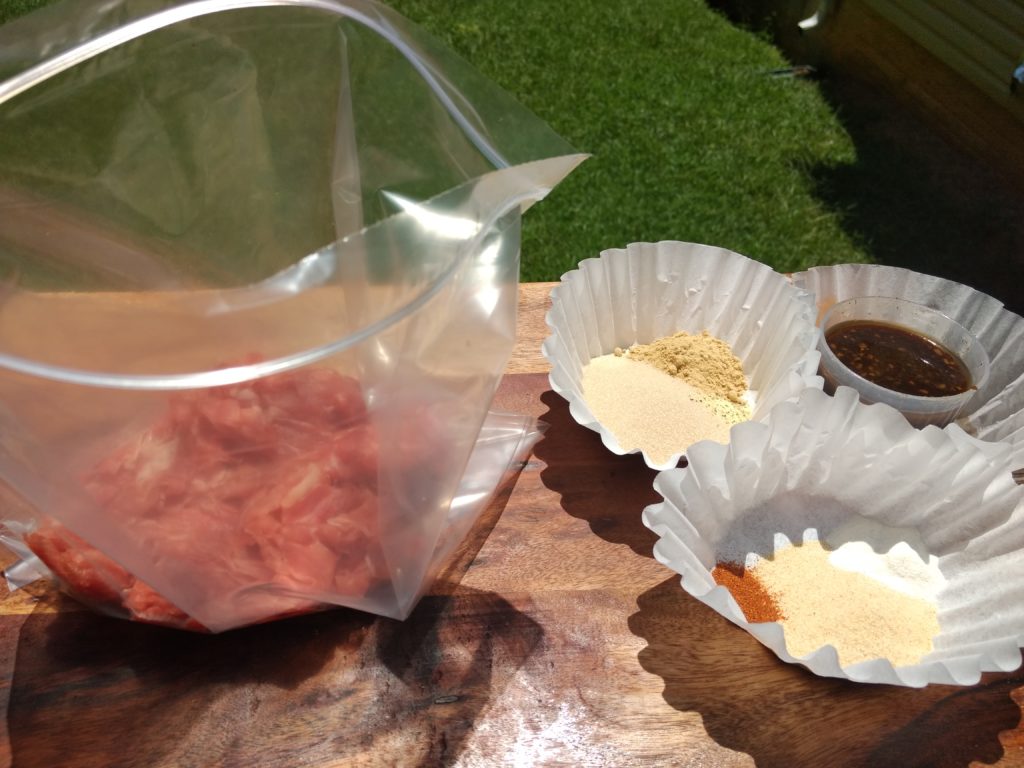 The marinade was something that we knew the flavor we wanted to obtain and built it a few teaspoons here and there and added them all up to complete the recipe. You can use a gallon ziplock style bag to marinate or a pan, but we aren't big fans of doing dishes so into the bag we go. Also the dry ingredients can be mixed in a bowl, but because it all goes into the bag its not nesassary to mix it before, you can use coffee filters to hold your dry ingredients or go right into the bag. We liek the coffee filters because theres less clean up as well as the filters dont hold on to any of the spices, meaning no loss seasoning or flavor.
Wheres the beef? Its on the list, choose a lean beef for this or any cut you'd like. We chose to use what the grocery store called Philly Cheese steak cut. Its as thin as sandwich meat and works awesomely in this recipe. the thicker you go, the more risk you run of chewy beef, so don't be afraid of the thinness of the cut, the sauce will coat it and when it carmelizes they come out thicker with the sauce. Just be sure to separate the meat so it all gets an even coverage of the sauce. you might like to double the marinade if you like a more saucy dish, we opted to stay this thickness because using it on the Grillgrate plates with the holes in it the sauce would have never made it to the plate. You could do little water or beef broth to the pan when the dish comes together. (we did and wow). The grate plates come in a variety of sizes to fit any grill, and are the reason our sear marks on steaks and other foods look so amazing.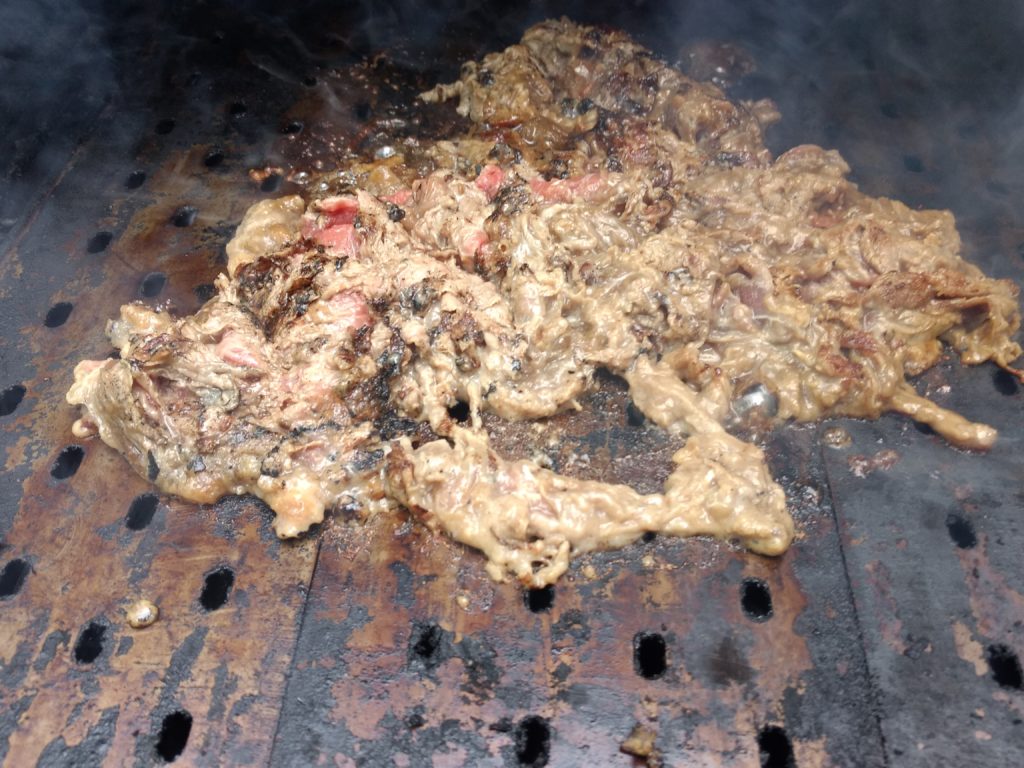 Now the broccoli, thats a veggie. its about all the carbs you really have in the dish, really. its also optional, as are green onions, if you like green onions skip the onion powder in the recipe, we like it with the powder since the green onions get wilty in heat. Broccoli is around 6 carbs for a cup, but I'm confident I didn't get fat because I ate too much broccoli. You know? Yeah.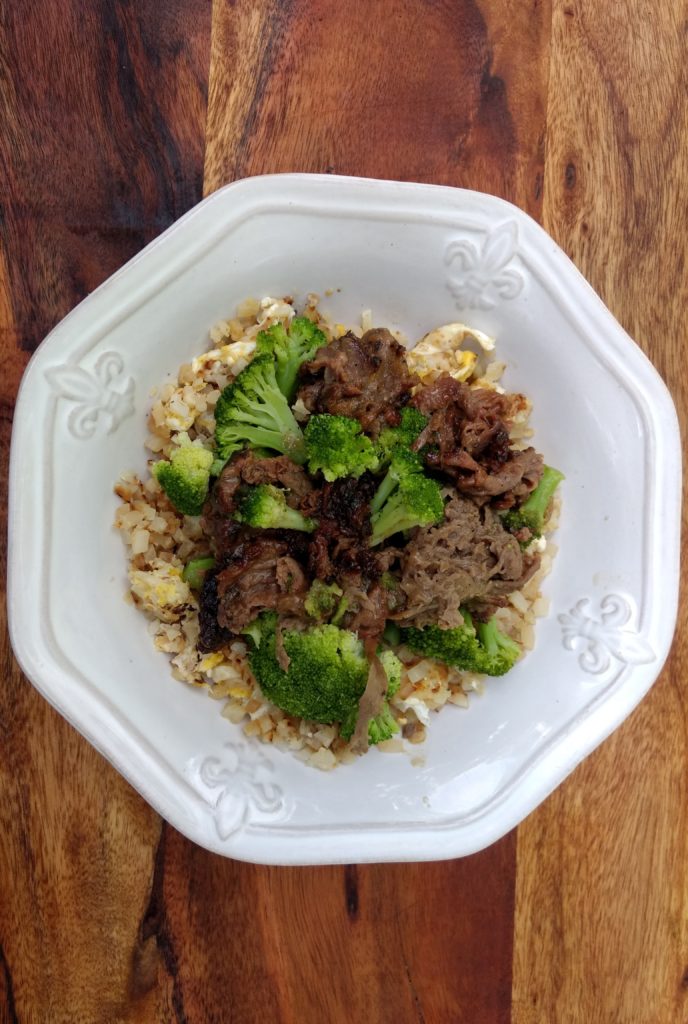 So grilling the dish, using a blackstone griddle, maybe a griddle pan on the cooker, they're all great options. We opted to make use of the Grillgrate plates on our REC TEC Grill. We figured we had the plates and hadn't used the back of them in a while. Be sure your grill is not covered too bad in oils or fats, you want to cook this at a super high temperature. Nobody likes grease fires, nobody. We want to see success stories, not fire stories. We stoked the fire up to around 400, and with Grillgrate plates the surface temp was up over 435 degrees to get the cook done in just a few minutes. When you pull the beef out it will most likely be in a large hunk of the thin strips, don't worry. it will still be amazing.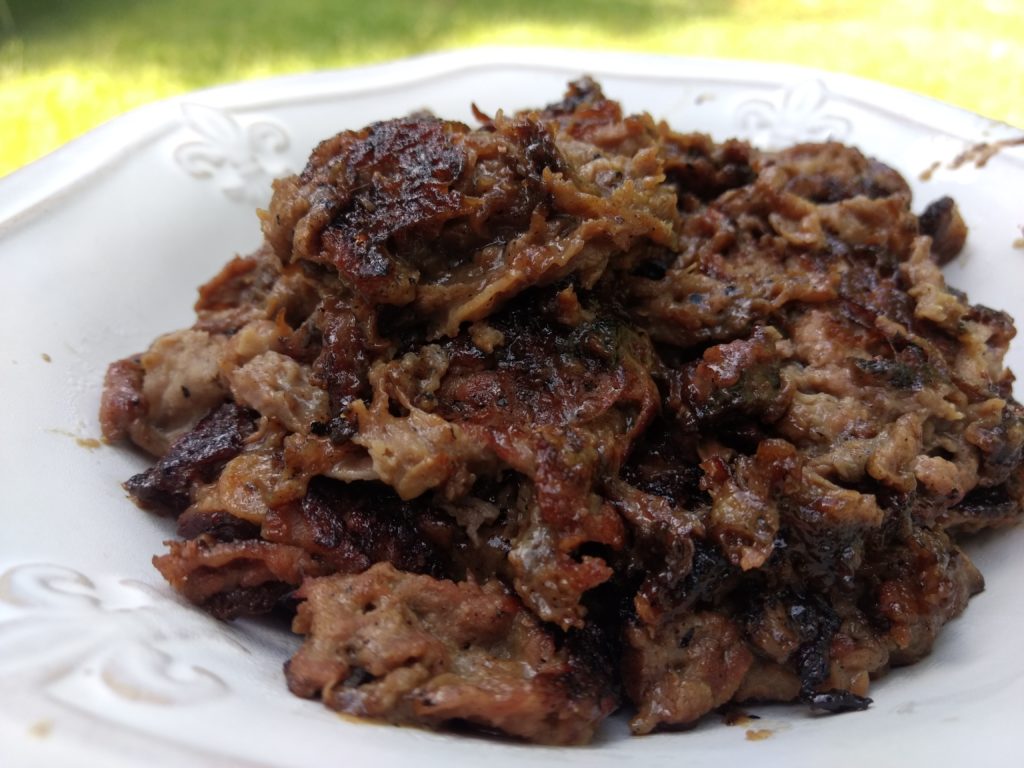 As with any dish, make it your own, serve it as is, or over some plain cauliflower rice, or as we did over caulifried rice. We used this recipe, just omitting the chicken. Its delicious, and adding the egg makes it a real winner in our book. Its easily done in a pan or on the griddle for the char on the cauliflower, which we think makes it much closer to take out flavors.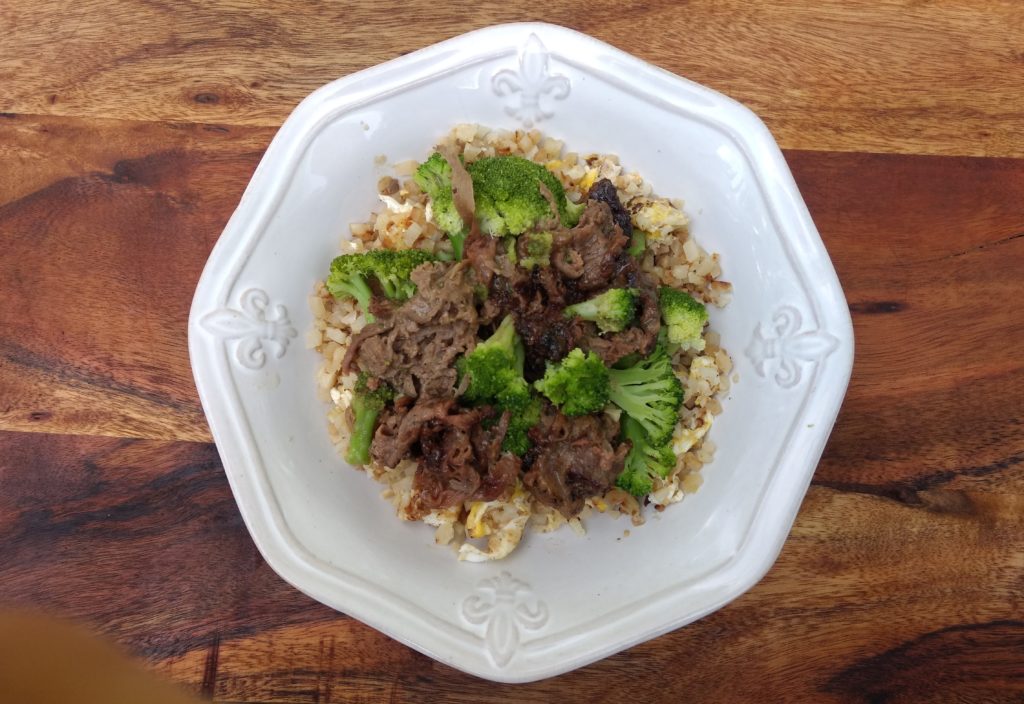 RECIPE – MONGOLIAN BEEF
2 TBS Garlic
1/2 TSP Cayenne
1/2 Cup Monk Fruit Sweetener Lakanta Golden
1/2 TSP Onion Powder
3 TBS Coconut Aminos Braggs
1 TSP Sesame oil
1/2 TSP Sesame Seeds
2 1/2 TBS Ginger
1 TSP Lemon Pepper Seasoning
1 1/2 LB Shaved Raw Beef
1 1/2 TSP Xantham Gum
Broccoli—- TO TASTE. We used about 16 oz of it.

This is the mongolian beef of all mongolian beef. First 10 ingredients all in the bag or bowl for marinating. Since the beef is shaved thinly theres less marinating time. You can start this and grill it off in an hour, and it will be just as flavorful. You could make the mix, chop and steam the broccoli and then you can start the grill and when it hits temp, you can start it cooking. Hot sear and chopping it up as it cooks don't let it burn, keep it moving. You can see in the photos above that it goes onto the plates as a whole steak looking piece and chop it as seen in the pics. once it hits done, (Browned) combine the broccoli beef and one cup of water into a pan and mix well. bring to a simmer and pull it off the heat. Serve over your choice of Caulirice, caulifried rice, or justs straght up in a bowl or plate. Its amazing stuff, and we hope you love it. The caulifried rice we used is this one, just omiting the chicken.