Woooo! Chicken fried rice. Dieting doesn't have to be boring or bland. We are about to scratch that itch for some takeout. We each had big bowls of it but you could serve five or six off this recipe without any other sides or foods. We also have an amazing Mongolian Style Beef dish that is great over this Fried rice if you omit the chicken.
This is a quick dish that can be on the table in as little as twenty minutes! So if you're keto and low carbing on the run, this is it! Plus, like you remember chinese food, its pretty dang great the next day leftover! We've started making double recipes to have a quick on the run dish. Keto-Q isnt just on the grill, this can be all indoors or you could opt to use a wok outdoors and grill the chicken off too. Thats what we have started doing with the chicken, gives it a depth of flavor that almost gives that flavor from the restaurant cuisine.
When we started this recipe we wanted an easy weeknight meal that wouldn't break the bank but still felt indulgent enough to go with the keto lifestyle we try to live, thats making foods that our friends and family enjoy even if they are ont living the lifestyle.
I had this one tested with a caulihater, they ate two bowls…. accidently. So we were told. At any rate this recipe not only quenched that desire for chinese food, it kept us from falling off the wagon and eating that cab and sugar coated take out. Plus it was cheaper and didn't leave us with an empty stomach in thirty minutes, and no MSG headaches for those that get them from it.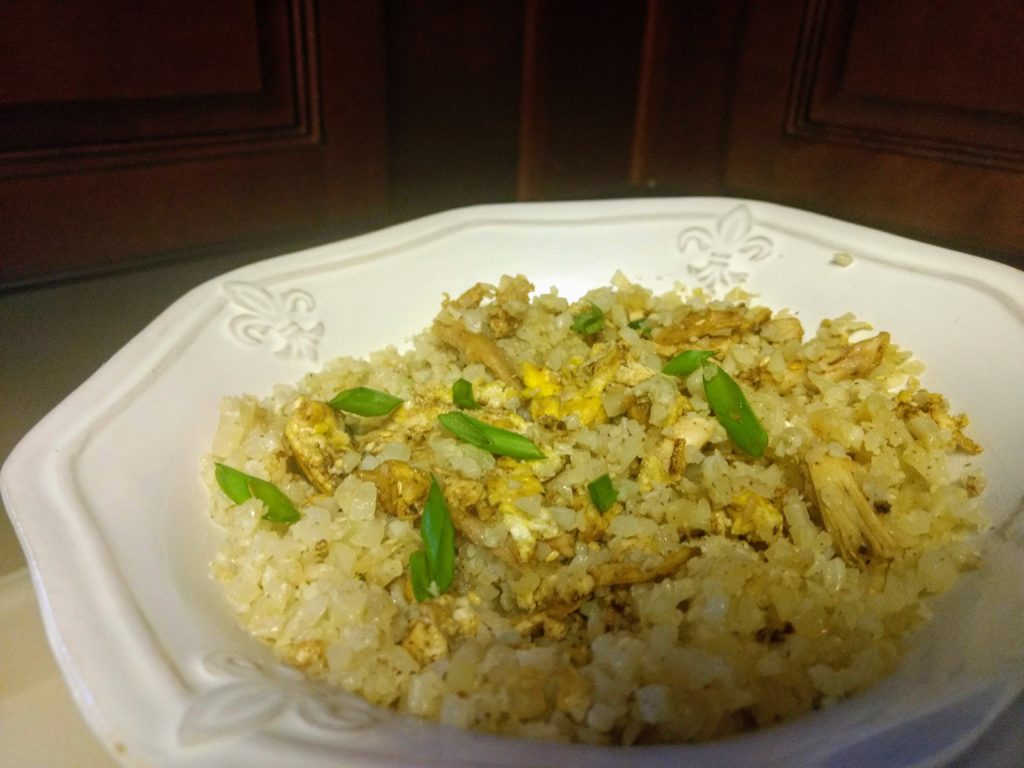 Recipe for the best Chicken Fried "Rice"
Chicken
1.5 lbs chicken breast or Thighs
Naturiffic ginger Orange salt
1 TBS Bragg liquid coconut aminos
1 tsp oil
Grated or powdered ginger appx 1 tsp
*Combine and marinate 1+ hours. pull, dry off and sauteed in butter or quickly grilled off, set aside.
Caulirice
2 packages of caulirice
2lb fresh
2 TBS sesame seed oil
2 TBS coconut aminos
1 teaspoon
1 teaspoon Ginger Orange Naturiffic salt – more to season after Incorporated
3 TBS butter
1/2 cup chicken bone broth
2-3 eggs
sesame seeds to toast
*Incorporate ingredients except broth, egg and sesame seeds. Cookon medium heat to tenderize, as it heats add in the bone broth turning up to high to boil the broth off condensing the chicken flavor. Stay with it, it cooks off quickly, as it starts, cut it back to medium. Spread it out and let it start to crisp up and nearly burning some of the bottom, yes, Im serious. Stirring after that first crisping, this is to give it more depth of flavor. It helps with the restaurant flavor you're used to. Spread the caulirice back from the middle of the cooking vestle. Add the sesame seeds and toast them, incorporate into the rice. Now add eggs and scramble in pan with cauliflower rice moved to sides once they are starting to set but are still wet, mix the rice through it and cook until you no longer see runny egg. If you are doign this as chicken fried rice, add chicken- stir and serve/bowl it up and top with chicken for pretty plating. Serve hot and garnish with sesame seeds. Keto-Q win!!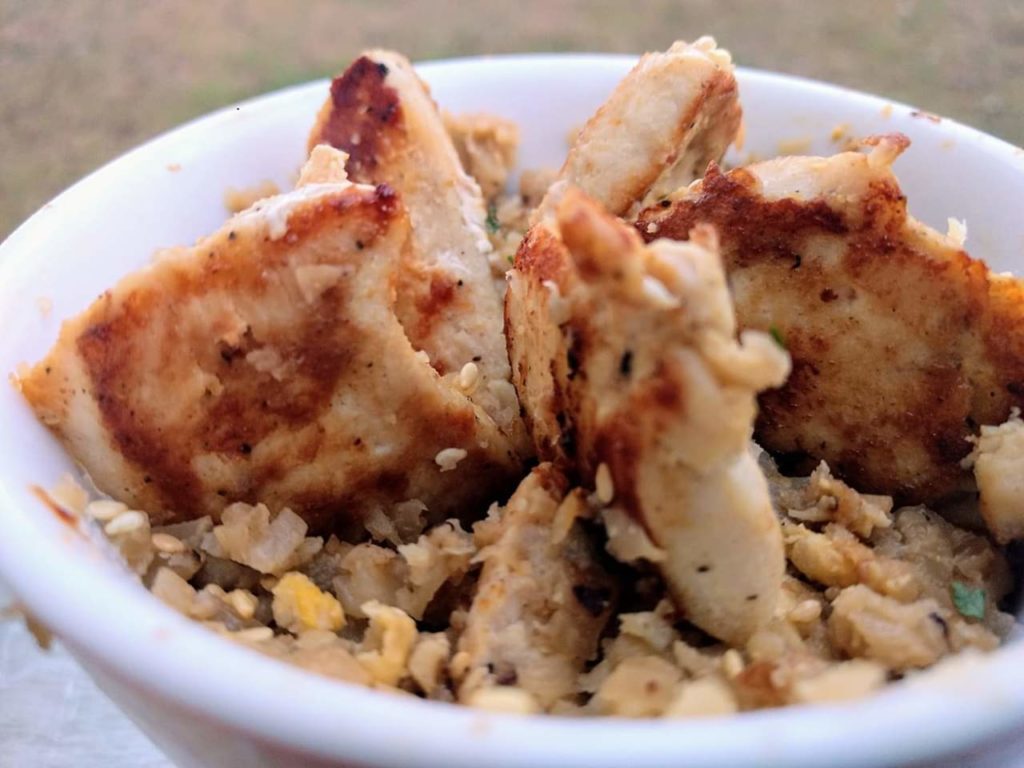 We also have an amazing mongolian beef that you could skip the chicken and make a #2 combo without the egg roll….. until that recipe hits the site. Its in the Keto-Q Labs in development.
Heres some of our other great dishes
London Broil- falling down or coming up?
Sweet Whipped Cream
Jeremy's Crackers- The crunch code has been crunched.