We've been on the keto life a while, or trying to garner support of it with your spouse or workmates. This is the dish that is easy enough to do for a weeknight meal, travels easily, and reheats nearly to perfection, if its brined as we suggest in the recipe. Though its easily tasty without the brine, especially for unplanned dinners or no time to brine.
The brine is a simple dill pickle and chicken stock brine, with a hint of sweetener to balance it out. We brined these for up to 12 hours, set them up before work in the fridge and you'll have an awesome dinner for the evening. This is a simple Keto friendly pickle juice, like this. just the two cups from the jar, three cups of chicken stock, a tbs of monk fruit sweetener ( or your prefered one) and cut it with a cup of water. That evening, wash them and pat them dry before you season them up, remember the brine has salt so be mindful of your choice, we like the basic BBQ rub on our site for this recipe.
Choice of chicken is up to you, I've done boneless skinless thighs rolled out, thinly sliced breast filets, really they all work well here. And bonus, its not the regular grilled chicken that we are all tired of by now. Our family enjoys this with a side of squash and zuchini au gratin cassarole. Which is coming soon right here on the site. Now the toppings require a little looking, or knowledge of building a sauce, and finding bacon that is keto friendly, but can be done. We like our home brew for this or to use theG Hughes lines of sugar free sauce. Hickory is our favorite. But this pack lets you try them all.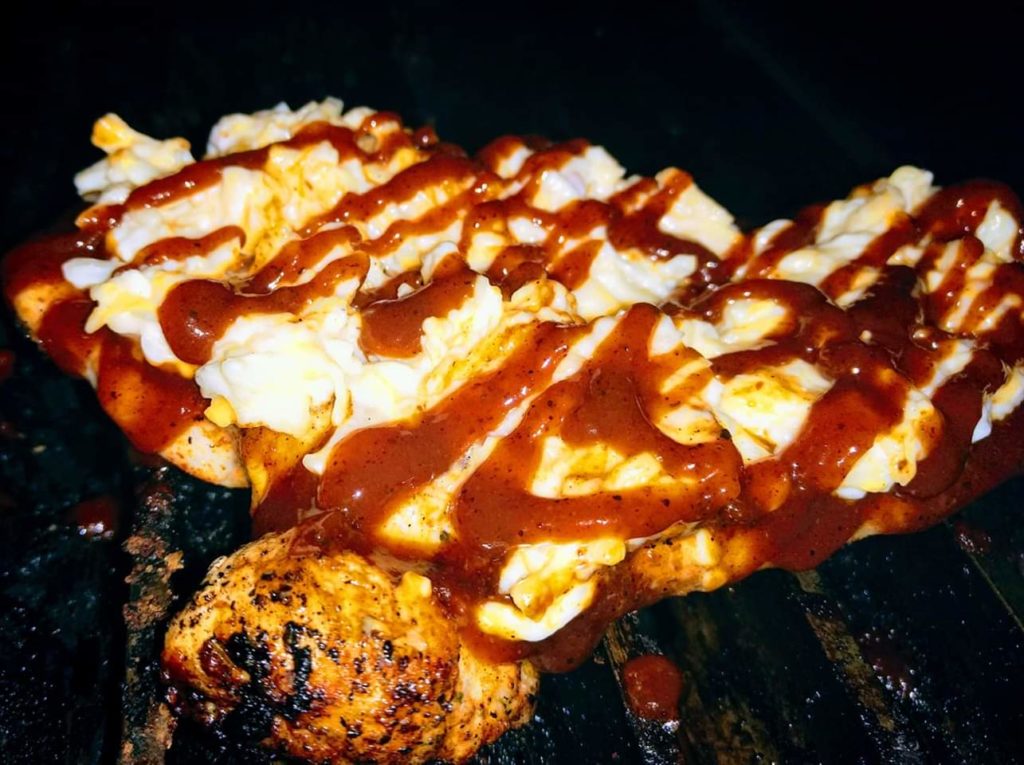 Monterey Style Chicken
Brined Chicken breasts or thighs 1 LB
Chicken seasoning – we like this
Freshly Grated Monterey or Colby Jack Cheese -1 Cup
BBQ Sauce – We didnt measure that, just a glazing and a drizzle as they finish up
Sugar free Bacon 2 per cut of chicken
GrillGrates- for these pretty marks, and even grilling
While your grill is getting up to temperature lets prep these chickens….
Pat dry brined chicken cuts, or unbrined cuts, and season lightly. Make sure the grates are oiled up so the chicken doesn't stick, try Duck Fat or Avocado oil, very high smoke point, perfect for grilling chicken or steaks. Grill these up and while they are cooking to the internal temp of 165, grate some cheese up for the topping and assembly. Skip the bagged pregrated if you can, they have potato starch and other undesirables in them. Now when you flip the chickens, go ahead and glaze the birds with the sauce. Its important to heat your sauce before adding to the meats, you don't want to apply cold sauce to hot meat, it slows the process down and can enable the sauce to burn before the chicken is finished. Now its time to top with the cheese, and setting the bacon on the grates to cook off while the cheese melts. Once the cheese melts and the bacon is finished top the chickens with a couple slices and a light dribble of that warmed sauce. Now its time to eat!!!! Getting hungry just typing about it!
Try some of our other recipes.
Brownies- Yes, the best recipe for them!
BBQ Rub for ribs and butts!
Crackers that go crunch in the mouth.